I am going to be totally honest. I get kind of nasty when people talk to me about the wonderful idea of a flipped classroom. I can't quite put my finger on the cause of my anger; I think it lies somewhere between the ideology I hear and the laziness that I see. Because most of the time I see a flipped classroom that just changes the location of the boredom and lack of interest from the students. Instead of them watching you stand at the front of the classroom during the day, they have to watch you do it on youtube.
I don't disagree that the sage on the stage who sends home an hour of textbook questions for homework every day needs a new playbook, but flipping the lesson is not enough. If every teacher on the 9th grade team decided to "flip" their lessons then those students would rightfully riot!
But some folks do it well – right?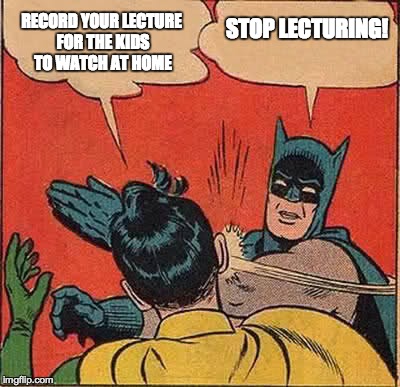 If doing it well still means that you are creating a style of teaching that will not work without homework then I am still going to struggle to get on board. It's not that I am anti homework. Nope, hang on, yes it's exactly that I'm anti homework.
Pink and Fisch were being talked about four years ago in this connected principals blog post. Allow me to share some of my personal highlights:
"To deliver true value in this environment demands we invert the norm, and one of the best developing models for this is called, I have learned recently, "reverse instruction."   "When you do a standard lecture in class, and then the students go home to do the problems, some of them are lost. They spend a whole lot of time being frustrated and, even worse, doing it wrong," Fisch told me.   Stop lecturing. Please.     
But some folks do it right – well….
You can not fault the enthusiasm of these spin masters here in this video.
[youtube]https://www.youtube.com/watch?v=2H4RkudFzlc[/youtube]
Aron Sams says "The classroom was centred around me. I told them exactly what to learn, how to learn it, what assignments to do to learn it, and when to learn it and how to prove to me that they learned it. I don't do that anymore." But then he goes on to tell us that actually he does still kind of do that. He just just does it using Camtasia (did they pay for that video?). They were doing labs at home before? I don't buy it. Side note – it did look like a lot of good stuff was happening during the class. But then there is not good stuff happening at home? Are we OK with that?
I want what is happening at home to be truly meaningful and really engaging – and if it's not then it shouldn't be happening. Our school policy states that homework (which can no longer result in a grade – yay!) should deepen and enhance student learning – show me a Khan Academy video that does that. On the other hand the policy also states that homework should assist students in consolidating ideas so I could see these "lectures" providing additional homework help for some kids. And I think that this is close to where I land on the reverse instruction idea. Some of my students will need some extra reinforcement of ideas and some of my students enjoy the pace of screencasts. So some of my students will watch them – I do make a lot. But as mandatory homework to be done before my next class? Not going to work for me. I want both sides of the flip to happen in my classroom. Do I need to let go of some control? Or am I doing my kids a favour by kicking homework to the curb?
You haven't arrived at the part of my blog post where I claim to have a better idea. I don't have one. But the straight up flip of the old lecture followed by practice questions routine is not making a bad model better. When you flip a burnt pancake to show the perfect side it's still burnt on the bottom.